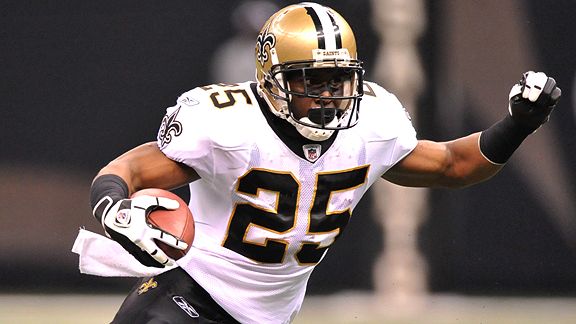 I was approached by a story that I just couldn't keep to myself. As much as Reggie Bush has been a playmaker and deadly weapon on the football field, he's proven at times to be even more Saintly off of it. His donations to the community and contributions of his time have been plentiful and well documented. This story, though, trumps most benevolent acts I've heard from many athletes off the field and it's flown under the radar.
Thanks to Kathe N. for this story:
"I just want to let you know what an awesome human being we have in Reggie Bush. We were able to make contact through his agent, and Reggie called my sister's terminally ill patient today. She was unable to talk, other than a very soft, "hello" but the smile on her face was priceless! Reggie took time to call from Germany today, and truly made a difference in the short life of a precious little girl. He fulfilled an end of life wish for a very sick little girl whose life was cut way too short. He's also sending an autographed jersey, overnight. Unfortunately, she passed away three hours after Reggie's phone call, but the jersey will mean the world to her family. A lifelong memory. I'm overwhelmed and want everyone to know the person Reggie Bush is. A true hero."
Reggie probably won't get much press or credit for this, but you know what, that's the way it should be. All great acts that do not go thanked are the best kind. This wasn't about Reggie getting good publicity, or boosting the public's perception of his character. If I didn't write about this, maybe no one would have ever heard about it. In a time where he's under a good amount of scrutiny for the USC sanctions, he could have easily mentioned something about this on his twitter account to let people know how great he is... but no mention. I applaud you, #25, for being a great and humble guy. What a heart warming story, and I believe we are lucky to have Bush in our community.