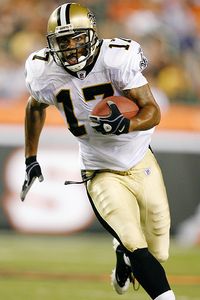 So far we've seen a lot of players tearing it up in training camp, and a few that have faltered. Here are the top 5 performers and the top 5 struggling players through this point. Keep in mind it's still VERY early, so these 10 guys could completely flip-flop by the time it's week 1 of the regular season.
TOP STUDS:
1. Robert Meachem (pictured): Meachem has run his routes to perfection and has literally caught every single ball thrown his way. He has routinely beat any corner he's been matched up against deep, and no one seems to be able to cover him. This could be a huge year for Meachem, who Brees is beginning to trust more and more.
2. Reggie Bush: Despite the banged up knee, Bush has looked fluid and healthy. He's been held out a couple times... once as a precaution and once with swelling, but each time he's bounced back to have a tremendous practice.
3. Mike Bell: In minicamps Bell added muscle and showed up to camp 10 pounds heavier in what he called the best shape of his life. After the coaches told him they preferred him without the extra weight, Bell returned in time for training camp trim and light. Bell has completely solidified the #3 back spot with his camp performance this far, and I continue to believe he'll play a prominent role on the Saints this year.
4. Jabari Greer: So far the new cornerback addition seems like it was a good one. Greer has looked great in coverage, breaking up numerous plays and even intercepting Brees a couple times. He started with the second strings and has crept closer and closer to the starting unit with every practice.
5. Jeremy Shockey: Light years ahead of his progress from this time last year, Shockey is healthy and performant. Whether it's standing his ground in blocks or running seam routes in traffic over the middle - Shockey has impressed. He could be a huge part of the offense this season. Pro Bowl in 2009?
honorable mention: Anthony Hargrove. He'll need to keep up the good work and keep his nose clean to make the team, but his potential is promising.
TOP DUDS:
1. Adrian Arrington: How can he make the team if he never practices? His grade 2 hamstring tear is a big disappointment for him. I just don't see him making the team with an injury like that. Even if he gets on the field and plays in preseason games, it's going to be hard to outperform other players running on a bad wheel. It's too bad because he's got terrific potential, but when you can't stay healthy there's only so many lives the team will give you.
2. Jo-Lonn Dunbar: Injured as well, Dunbar's job isn't safe as a backup linebacker. He was a fan favorite last year but he needs to be out there showing he can make plays on special teams, because he's not going to inherit a starting job and Anthony Waters and Jonathan Casillas are no slouches challenging for backup spots.
3. Devery Henderson: Is back to his dropping antics. He's had bad practices fielding punts, admittedly not his stock and trade, and he's followed that up with struggles catching passes. Hopefully he can turn it around. According to Jeff Duncan of the Times-Picayune he is getting badly outperformed by Meachem.
4. Skyler Green: Has had trouble fielding a lot of balls cleanly as well. Unfortunately for the former LSU standout he only has a shot at making the team if he impresses on kick/punt returns. So far he's really struggled in practices. By no means is he out of the running against Courtney Roby, but it's going to take a big effort in preseason games.
5. Roman Harper: He looks improved, his confidence is up, and he's more active in this new defense that sometimes features him blitzing off the edge. That said, he's still struggling with the deep ball. Meachem, namely, has beaten him numerous times as he tried to provide help up top. He's still a liability in pass coverage and needs to clean that up.
Honorable mention: Charles Grant. While he seems to be playing fairly well, he's struggling with weight as always.