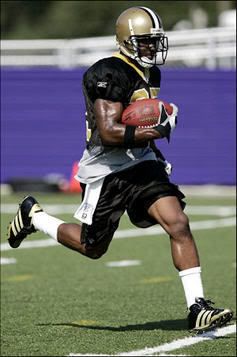 Who's Hot: Reggie Bush (pictured). After sitting out of a practice to rest his knees as a precaution, Reggie Bush bounced back to have his best practice so far. He was electric, blasting through holes and showing no problem with his cuts and turns. Looks like his knee is in good shape so far.
Who's Not: Leigh Torrence - not only has Torrence dropped a very easy interception in practice, he also sucker punched Jermon Bushrod and incited a scuffle on the field.
Other notes:
-- Arrington is still not practicing and Jenkins is still unsigned. The good news on the signing front is that now both Orakpo and Cushing (the players drafted before and after Jenkins, respectively) are signed. There's really no excuse for Loomis or Jenkins' agent to strike a deal quickly now that the benchmarks are made.
-- While still practicing with the second unit mostly, Jabari Greer has looked active and disruptive in the passing game. So far he looks like a good pickup.
-- Roman Harper has been beaten deep already a few times in training camp. As much talk as there's been about him emerging as a stud this year, he is still plagued by the same issues that stunted his growth as a safety up to this point. He needs to correct this ongoing issue he has with playing the deep ball so poorly.
-- ESPN's Chris Mortensen visited the Saints' camp today, check out Sportscenter for a piece on Drew Brees and the Saints' camp.