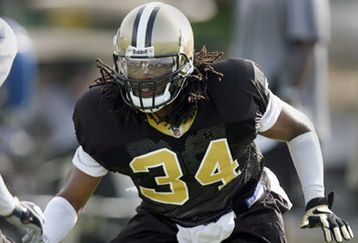 Will Smith
: B+ (2.88) Early in the game,
Laurence Maroney
ripped off a 22 yard run, and Will Smith had a clear shot at him around the line of scrimmage. Sometimes I feel like he's focused on improving his sack total and his run defense has suffered from it. That said, he did a good job of staying in Brady's face despite double teams for a good portion of the game. He finished with 4 tackles, hit Brady 3 times, and ended with 1.5 sacks. He was the beneficiary of a stat padding sack at the end of the game, and that sack gave him 10 for the season. It's been a while since we've had a double digit sack guy, so that's nice to see 11 games into the season. After having a lower GPA early in the season, Smith's grades have been rising steadily and he continues to pile up consistent performances.
I also need to give props to Lynell Hamilton. He gets an incomplete grade based on limited playing time - but he had a punishing closeline tackle on kick return, and he was a decoy on the touchdown pass to Dinkins.
My Defensive Player of the Game: Mike McKenzie
My Special Teams Player of the Game: Thomas Morstead