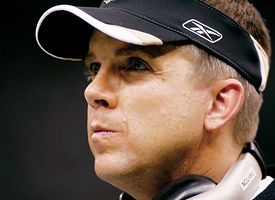 If you look at the stats from the Saints first two victories, a balanced attack is evident and that's been the key to the Saints' success. Week 1 had the Saints running 35 times, and passing 34 times. Week 2 had the Saints running 29 times and passing 34 times. All in all, in 2 games the Saints have won putting up over 40 points in each, they've run 64 times and passed 68 times. Pretty even numbers if you ask me. I've compiled the numbers on last year's 8 wins, and 8 losses, and they look like this:
In 8 wins, the Saints averaged passing 34.1 times and rushing 29 times.
In 8 losses, the Saints averaged passing 45.4 times and rushing 20.8 times.
In other words, about 10 plays more were passes instead of rushes in the losses. That number is astronomical. Now sure, when you're losing you tend to throw more because you're behind, and when you're ahead you tend to run more to run the clock - so to an extent those numbers may not be that surprising. But with the Saints it is exacerbated by the fact that Sean Payton loves to pass. How can you blame him? He's got Brees, Bush, Shockey, Lance Moore, Devery, Colston, Meachem... lots of weapons and lots of possibility for big plays. But beware of being too greedy. With a few exceptions, the Saints played in A LOT of close games last year. The numbers should not have been that skewed. For example, the Saints lost 23-20 at Tampa last year, throwing 47 times and rushing 18 times. That game you'll remember was also in a driving rain storm. That's just stubborn playcalling and poor adjustment to circumstances if you ask me. Another loss was 33-31 to the Panthers: 49 passes, 11 rushes. In that game the Saints got way behind and played catch up - but the fact remains the more they throw the more they lose.
Don't get me wrong, the Saints are a pass first team. Based on our top quarterback, finesse line, average running backs and above average receivers/tight end. Let's face it, they are at their best when they are passing. My point is they need to run enough to make other teams respect it. We're not built to run 50 times a game and win like the Titans or Ravens. What I've seen so far this year is a much more balanced attack, and it seems like Sean Payton has improved as a play caller. Of course, it's much easier to call plays from ahead than it is from behind - and sooner or later this season the Saints won't start a game the way they've started these first two. Against Detroit and Philly the Saints jumped out to early leads making it easier to run. When the opposite happens and the Saints fall behind, it will be interesting to see if Payton has learned from the error of his ways. That's not to say I don't think Payton is a good coach - I think he's a very good one. But as always and with anything, things is perfectible. I think Payton has a habit of relying too much on the pass too early. So far this year I haven't seen that, and it's a great sign. A by the way, less is more with passing. Take the Detroit game as evidence; the Saints ran 35 times and threw 34, but still managed 6 touchdown passes tying a Saints record that stood for 41 years. Brees once threw 58 times in a game last year and only got 2 touchdowns out of it. The point is the more teams respect the fact that you can and will run the football, the more vulnerable they are to the pass. And let's face it, passing is what the Saints do best. So again, balance is key because while the Saints pass less, they get more positive results out of the times they do pass. Ultimately balance will decide how far the Saints can go this year.