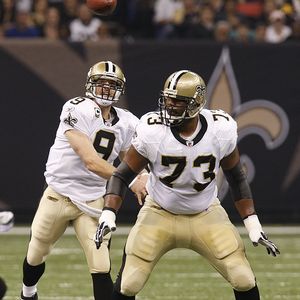 Several more of the restricted free agent Saints players have been offered contracts. The tenders are as follows per
Nola.com
:
Jammal Brown: 1st and 3rd round tender compensation
Roman Harper: 1st round tender compensation
Pierre Thomas: 2nd Round tender compensation
Lance Moore: 2nd Round tender compensation
Anthony Hargrove: 3rd Round tender compensation
Per
Nola.com
: "They also offered undisclosed deals to defensive tackle Remi Ayodele, linebacker Marvin Mitchell, safety Chris Reis, tight end David Thomas and receiver Courtney Roby."
This leaves the following restricted free agents not yet tendered: Mike Bell, Jahri Evans (pictured), Leigh Torrence, Jeff Charleston and Kyle Eckel.
In all cases I think the Saints are pretty safe in that they can match any offer made to any player they've already tendered. I'd say that the player most at risk is Pierre Thomas, who could easily be worth a 2nd rounder in the eyes of some teams. As mentioned previously, though, the Saints could match any offer sheet he signs. The fact that the Saints have yet to tender Mike Bell is somewhat surprising. They have until March 4th to formalize all of their offers, so there's a chance he could still be made an offer by them. Some speculation has been made that the Saints are letting him go to open up the roster space for Drew Brees' former teammate and long time friend LaDainian Tomlison. I'd say that at this point that's a little premature.
As for Jahri Evans, rumor has it the Saints are working on a long term extension. Evans is arguably the best offensive guard in the NFL, and there's is absolutely zero chance of the Saints letting him go anywhere. I think it's safe to assume that, at the very least, he'll be offered a 1st & 3rd round compensation level tender like Jammal Brown, if the two sides can't agree on a long term deal first.