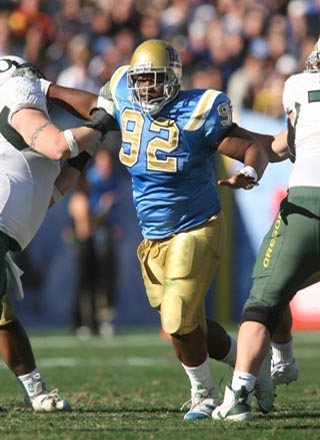 17. San Francisco 49ers: Earl Thomas, S, Texas
The 49ers already addressed their offensive line need earlier in the draft taking Trent Williams, so my pick here is Earl Thomas. He'll help the backend of the 49ers' secondary.
18. Pittsburgh Steelers: Mike Iupati, G, Idaho
Here's the question facing the Steelers as they look to make their first round selection: Do they improve protection for Big Ben by adding a ready-to-start lineman to the mix? Or do they start the youth movement on their aging defense? While the defense is old, as long as
Troy Polamalu
can stay healthy (which is no given) it's safe to say the Steelers' defensive production can be steady. They'll go with the best offensive lineman available to keep Ben Roethlisberger clean
on the field
.
19. Atlanta Falcons: Brandon Graham, OLB, Michigan
The Falcons are a nonexistent pass rush last year, and Graham has the versatility to rush as an end on passing downs while also playing outside linebacker.
20. Houston Texans: Kareem Jackson, CB, Alabama
With Dunta Robinson gone and an already shaky secondary, the Texans are desperate to address their needs on the backend. The offense looks promising, so while they consider Ryan Mathews here, they just can't pass up on a defensive back.
21. Cincinnati Bengals: Taylor Mays, S, USC
Everyone has the Bengals taking Mays here, so I'm jumping on the bandwagon. His 40 time at the combine was pretty impressive, and while his senior season was shaky, the Bengals need that kind of freakish talent to turn around their defense.
22. New England Patriots: Jermaine Gresham, TE, Oklahoma
Chris Baker? Gone. Ben Watson? Gone. Wes Welker? A stretch to make it back in time 100% healthy for the beginning of the season. The Pats need a reliable target underneath to take advantage of Randy Moss spreading the field.
23. Green Bay Packers: Bruce Campbell, OT, Maryland
Aaron Rodgers was sacked 50 times last year. Everyone and their mother knows that the Packer's line is in complete shambles. Campbell is a mammoth at 6'7" and he may give Rodgers an extra second to get rid of the ball. He also represents tremendous value this deep into the 1st round.
24. Philadelphia Eagles: Kyle Wilson, CB, Boise State
The Kevin Kolb era is officially underway, but it'll start without Brian Westbrook. While McCoy is a good back, it's not safe to assume he can carry the every down load. Ryan Mathews makes a lot of sense here because he's the best remaining back in the draft. That said, Sheldon Brown is gone and they need someone to start in his place immediately.
25. Baltimore Ravens: Maurkice Pouncey, C, Florida
The Ravens addressed their major need at receiver by adding Donte' Stallworth and Anquan Boldin, which means they'll take the best player available. Pouncey will start at guard with Matt Birk still on the team, but will likely be the Ravens' center of the future.
26. Arizona Cardinals: Sean Weatherspoon, OLB, Missouri
Karlos Dansby is gone, and that loss hurts the Cardinals very badly. They need a young player that can help immediately and cushion the blow. Weatherspoon is a very promising player.
27. Dallas Cowboys: Anthony Davis, OT, Rutgers
Flozell is chopped liver and the Cowboys need someone who can hold a block for a
long
time, considering how much Tony Romo loves to run around in the pocket. Davis is the Cowboys' tackle of the future.
28. San Diego Chargers: Ryan Mathews, RB, Fresno State
The Chargers finally parted ways with LaDainian Tomlinson, and they also thought long and hard about letting go of Darren Sproles. While Sproles remains for now, the Chargers' offseason behavior made it clear they are anything but sold on him. Let's face it, he's tiny and nothing more than a dangerous situational role player. The Chargers are ecstatic Mathews falls to them, and they don't think twice about drafting them as their new load carrier.
29. New York Jets: Demayrius Thomas, WR, Georgia Tech
Simply put, Mark Sanchez needs help in the form of playmakers if he's ever going to progress. Just what the doctor ordered.
30. Minnesota Vikings: Devin McCourty, CB, Rutgers
The Vikings don't have many holes as they wait for Brett Favre to make a decision at quarterback. Devin McCourty is the best player available, so they upgrade their secondary.
31. Indianapolis Colts: Jared Odrick, DT, Penn State
The Colts need to shore up their run defense in a big way. Odrick gives them size and agility inside, and it's a pleasant surprise to them that he's still available at this point.
32. New Orleans Saints: Brian Price, DT, UCLA
(pictured)
So there it is Saints fans, my prediction for the 1st round pick of our team in 2010. With the Alex Brown signing, the positions I think the Saints are most likely to consider with a 1st round pick are defensive tackle, outside linebacker, free safety (if Sharper doesn't re-sign) and tight end. In my opinion, the players that fit that profile the most are Brian Price (DT) of UCLA, Aaron Gonzalez (TE) of Florida, Jerry Hughes (DL/LB) of TCU and Sergio Kindle (DL/LB) of Texas, and Chad Jones (S) of LSU. Kindle and Hughes aren't ready to make an impact at linebacker based on their diminutive size, so while they'd be terrific as situational pass rushers, I think the Saints will prefer a defensive player that can help them on running downs. Chad Jones is too raw, and while Aaron Gonzalez could easily be the pick... but in the end, I think Brian Price is that player, and the Saints will match him alongside Sedrick Ellis to shore up their defensive line and give them a promising young core up front. More information on Price can be found
HERE
. If he falls this low, I can't see the Saints passing on him because his is a well rounded NFL ready starting prospect. The Saints just got a lot better against the run.