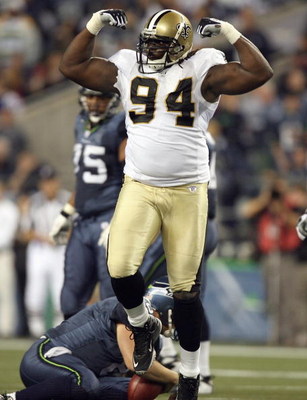 Charles Grant's (pictured) career as a Saint has mercifully come to an end.
My prediction that he had played his last game as a Saint
earlier this season turned out to be true. Grant received a huge contract (7 years, $63 million) back in 2007 and has never lived up to those gaudy numbers with his performance. Since signing the deal, he's mustered career low outputs and repeated injuries. Grant has been a Saint since 2002, when he was drafted during the Jim Haslett era. Thanks to Charles for his contributions to the Saints.
Grant took the time to post the following on his twitter account today: "too all my fans thank u for you're support all these years i love u" and "no longer a saints too my fans love u". I know he didn't learn that kind of grammar during his Georgia education! His departure is hardly a surprise given his massive cap status and his mediocre production, but it leaves a spot to fill on the defensive line. This further strengthens my belief that the Saints will target a pass rushing defensive threat early in the draft.
Jamar Nesbit and Mark Simoneau, though lower profile, are also long time veteran Saints that the team has decided to let go. They both carried big contracts, so it's not inconceivable that the Saints wouldn't try to bring either player back at lower rates. The chances of Grant coming back, though, seem null. Simoneau spent the last four seasons with the Saints, but was sidelined for the entirety of the last two due to injury. It's not clear whether he'll retire or attempt to make a comeback at 33 years of age. Nesbit was involved in the StarCaps situation, which cost him his starting position. Nesbit relinquished his starting role to Carl Nicks during his 4 game suspension and would never get it back. Nesbit is also 33 and was with the Saints since 2004.
Best of luck to all these players, they were some good ones!